United States of America (Global Diaspora News) October 18, 2019.  
Following the deliberation of the International Order of Academic Palms (Ordre International des Palmes Académiques) of the African and Malagasy Council for Higher Education (Conseil Africain et Malgache pour l'Enseignement Supérieur, CAMES) on May 2019, the Council of Ministers of the CAMES has pronounced the admission of Professor Brice SINSIN to the rank of Officer of the International Order of Academic Palms of CAMES, to take into account his initiatives for the promotion of higher education and research not only in Africa, but throughout the world. Indeed, the CAMES International Order of Academic Palms (abbreviated OIPA / CAMES) is a very great African honorary distinction whose implementation agreement was signed in Abidjan (Ivory Coast) in April 2002 and installed in April 2003 in Kigali (Rwanda), "to show its gratitude to administrative and political personalities who contributed to the development of quality education systems in Africa". Founded in 1968 in Niamey, Niger, by the African and Malagasy Common Organization (OCAM), CAMES has been adopted by 19 African countries: Benin, Burkina Faso, Burundi, Cameroon, Central African Republic, Chad, Congo, Ivory Coast, Gabon, Guinea, Guinea -Bissau, Equatorial Guinea, Madagascar, Mali, Niger, Democratic Republic of Congo, Rwanda, Senegal, and Togo.
The news of the promotion of the eminent Professor Brice Sinsin was announced to the scientific community of Benin on October 17, 2019, and soon spread around the world. This distinction of the famous Professor Brice Sinsin is a great honor for: 
• the Latin Quarter of Africa, Benin, his country of origin; especially for 
• the University of Abomey Calavi (Benin Republic), of which he was the Rector (Chancellor and President) from 2012 to 2017, during which this African university received more than 15 international prizes for the first time in its history); and
• the Laboratory of Applied Ecology (LEA) https://www.leabenin-fsauac.net, which he founded in 1994 and continues to direct.
A very rare African intellectual universally acclaimed from the four corners of the world not only for his dedication to high-level scientific research but also his liberal contribution to the development of peoples and the training of quality executives around the world, the exceptional Professor Brice Sinsin is laureate of several other honors including: 
Member, International Fulbright Prize Selection Committee
Alumni, Fulbright Prize Award
Grand Chancelier de l'Ordre National du Bénin (2010)
Award, International Foundation for Science
Vice-Chair for West and Central Africa, IUCN/WCPA
Best Manager of the Year, International Socrates Committee (2013)
Great Leadership and Governance Award, National Network of Governance Institutions in Benin Republic (Réseau Bénin Espoir ONG) (2013)
RUFORUM IMPRESSA (Impact Research and Science in Africa) Award (2017)
Award of Personal Achievement from the Chinese Government, presented by the Vice President of China (2016)
Etc.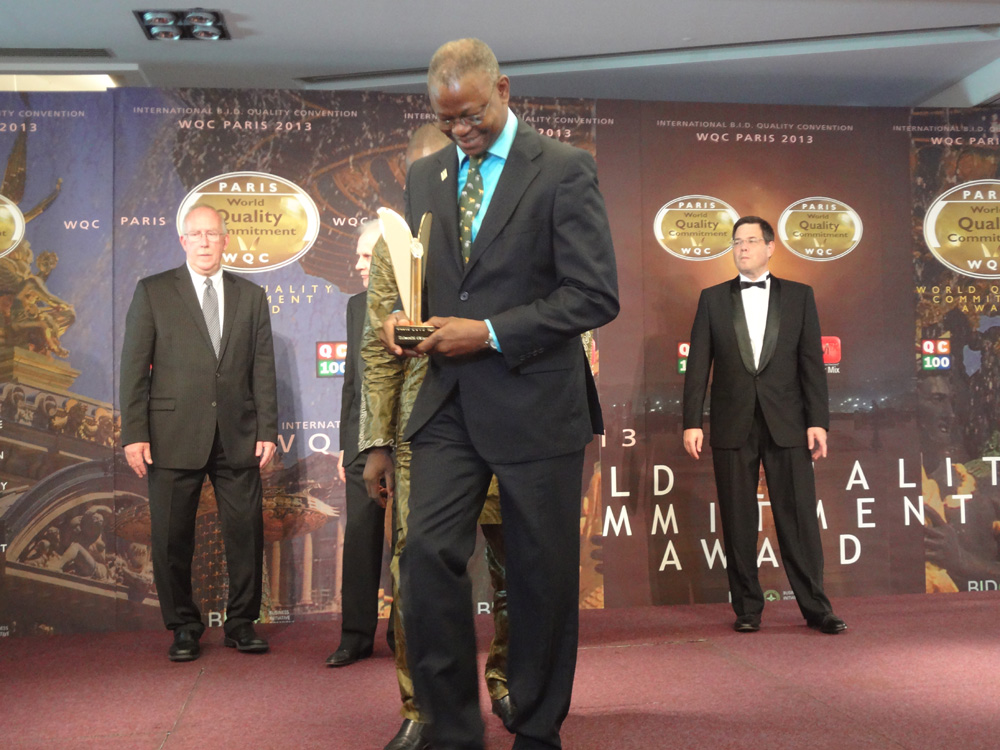 A worthy son of the land of Béhanzin, the outstanding Professor Brice Sinsin is: 
Director, Laboratory of Applied Ecology, known for its prolific scientific publications in various fields
Professor at the Faculty of Agricultural Sciences (FSA), University of Abomey-Calavi (UAC), Benin Republic (West Africa)
Ex Rector / Chancellor / President of the University of Abomey Calavi (2012-2017)
Publisher of more than 500 quality scientific papers
Visiting Professor at many universities in Africa, Asia, Europe, and North America
Coordinator of more than 20 research-development projects
Member of more than 25 international scientific groups such as IUCN-WCPA, World Agroforestry Center, etc.
Supervisor of more than 100 Ph.D. graduates and countless MS and BS Students across the globe
Spearheaded the UAC Foundation, Volunteer Group of UAC, and the UAC Startup Valley
Chair, Tropical Ecology
Reviewer of countless scientific journals across the globe
Editor, Annals of Agronomic Sciences
Founder of the Beninese Association of Pastoralism
Board Member of many organizations
etc.
If the detection and promotion systems of real executives were realistic and punctual, this promotion of Professor Brice Sinsin should have been made a very long time ago and, as brains really devoted to the formation and development of peoples like the distinguished Prof. Brice Sinsin are extremely rare, outstanding leaders like him should be classified in categories completely unmatched and, the whole world and especially Africa are better off to listen and rigorously apply the strategic instructions of highly respected authorities, distinguished academics and figures like him!  
Long live Professor Brice Augustin Sinsin, the pride of African intellectuals especially those of Benin who, today, seems to be in politico-economic "danger" because of some who seem to forget that, although Benin is the Political and Democratic Laboratory of Africa, what the French theologian, Professor Emmanuel MOUNIER (April 1905 – March 1950) had prophetically predicted about 70 years ago still deserves attention:
"Dahomey [former name of Benin] is the Latin Quarter of Africa; but this intellectualism made of malice and pettiness is likely to retard the development of the country".
But soon, IT WILL BE BEAUTIFUL: "Il FERA BEAU"!!!