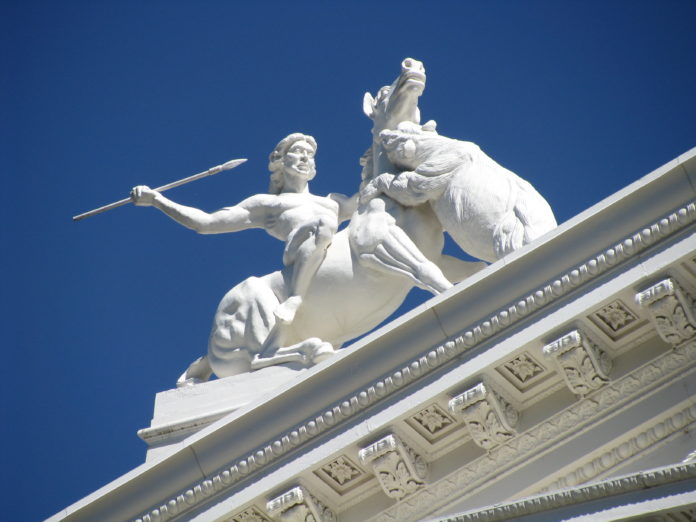 Photo Credit: Global Diaspora News (www.GlobalDiasporaNews.com).
The Democratic Alliance Federal Executive (FedEx) sat over the last two-days to deliberate on matters affecting both the country and the Party.
The Democratic Alliance (DA) is pleased with the progress that our governments are making in changing the lives of millions of people every day, by delivering services, keeping people and communities safe and ensuring much-needed economic opportunities are created.
We still have a lot of ground to cover but what is clear is that we are making rapid progress in implementing our Manifesto for Change.
FedEx congratulated Western Cape Premier on the launch of a R1 billion safety programme, which will see a significant reduction of crime. If we cannot keep communities and people safe, we are failing in our constitutional mandate.
The safety programme will be made up of deployment based on data-led technology; the recruitment and training of 150 investigators to prepare dockets for prosecution; 3000 new law enforcement officers will be deployed, with the first 1000 officers to be dispatched by the end of the year.
With the right resources and political will, we can win the war on crime and keep residents and communities safe.
We also note the redeployment of the SANDF to gang-ridden areas. While we welcome this move, it needs clear terms and conditions, which includes clear indicators of success and measurement – tools need to be put in place to track the impact the deployment is having. The Premier has written to President Cyril Ramaphosa articulating what measures are needed to ensure the success of the temporary deployment. Ultimately, the Western Cape needs more police resources, among other things.
The Premier's R1 billion plan ensures that there is a holistic approach, which involves all departments, to fighting crime.
The City, under the leadership of Mayor Dan Plato, (and Province) have taken active steps to curb rising violent crime rates, despite policing not being a competency of the Provincial or Local Governments; with the resources and powers we have we are showing what can be done where there is political will.
The City recently launched its Neighbourhood Safety Team (NST), which has resulted in the reduction of crime in general but murders specifically. On 1 July this year, 100 City Law Enforcement Officer were deployed in Boteheuwel, resulting in only gang-related murder in the area. Prior to this deployment there were 44 such murders.
Since 2016, we have spoken about city-led growth backed by strategy and data, therefore the City is in the process of reviewing and revising the current Economic Growth Strategy. The strategy was last reviewed in 2013. The 2013 Strategy was successfully implemented and has established a platform for the City's economic development. However, the constant changes in the local, national, and global economic environment have necessitated a review.
Despite frivolous efforts by the ANC to unseat Johannesburg Mayor Herman Mashaba and the multi-party municipality through failed Motions of No Confidence and disruptions in Council, the city continues to make significant progress in a number of areas.
National Treasury's preliminary Local Government Revenue and Expenditure Results, published in early September, has ranked the City of Johannesburg as the top performing metro in South Africa in terms of aggregate revenue (at 98.5% of budgeted revenue), and second only to Buffalo City in terms of expenditure (at 97.5% of budgeted expenditure). We are stopping corruption and unravelling the ANC's patronage network.
After years of neglect and capture by criminals, Joburg's administration is giving the inner city a new life by attracting investment, while also working to make the Joburg CBD into an inclusive space.
On 21 August the City held sod-turning events for the first four of 84 properties earmarked for redevelopment. These properties represent part of a R22 billion investment in the inner-city which is expected to generate 11 000 direct construction sector jobs. The inner-city revitalisation project is expected to yield approximately 6500 units of affordable quality housing with rentals beginning from R900 per month.
FedEx congratulated Mayor Mashaba and the City for the latest results of the Household Satisfaction Survey shows that more people are satisfied with the services rendered by the City than previous years. Approximately 5,000
households across all seven regions of the City were interviewed, and the sample was representative of the gender, race, dwelling type and location composition of Johannesburg.
Overall, the Household Satisfaction Index increased by 12 points, from 61 in 2017 to 73 in 2019.
Despite the political and legacy challenges in the City, there is a clear sign of change in the City.
The Tshwane Trade and Investment Summit (TTIS 2019) was held on September 17 and 18 at the CSIR Convention Centre in Pretoria. The summit will see policymakers, business and experts meeting in an effort to achieve the R10 billion investment target set by City by the end of this term. This is a significant effort by Mayor Stevens Mokgalapa and the multiparty coalition government.
Furthermore, the registration process for EPWP workers commenced on 12 August. Once registration concludes, selected residents will be direct beneficiaries of a fair and transparent process with a 27 000 placement target for the 2019/20 financial year.
DA-led cities are delivering on the 2016 election commitments, which lay a strong foundation for the 2021 Local Government Elections.
The FedEx reflected on the state of the country and its economy. The Leader, Mmusi Maimane's sponsored debate outlined what urgently needs to be done in order to get South Africa and her people working. The Leader also outlined that the DA at all levels must put solutions forward and where we are in government, we must dedicate ourselves to ensuring that we build a working and inclusive economy that creates jobs.
We are fast running out of time; therefore, the country's unemployment crisis requires action, not talk.
We need to deal with Eskom and other blood-sucking State-owned Enterprises; we need a government-wide review of spending, especially curbing the public sector wage bill; we must walk away from disastrous policies like the NHI, EWC, National Minimum Wage, nationalisation of the Reserve Bank and now also talk of prescribed assets; we'd like to see the creation of a Jobs & Justice Fund to provide start-up capital for SMMEs; and we need a redress plan centred on inclusive growth to ensure real broad-based participation in the economy.
We have also been alerted to the possibility of rolling blackouts once gain wreaking havoc on the economy and dilapidated infrastructure. Eskom needs to play open cards with the people of South Africa and articulate what the situation is in terms of energy security. We await a response from Eskom Chairperson, Jabu Mabuza, to our request for clarity on the mater.
The DA reiterates the need to break Eskom into two separate entities – a generation and distribution entity. Furthermore, we need an accelerate the rollout of alternative energy by Independent Power Producers. This will ensure efficiency, competition and most importantly energy security.
In this light, it is unacceptable, and adds to the notion of policy uncertainty, that revised Integrated Resource Plan (IRP) has not been tabled. This is supposed to be done every two-years, with the last IRP being tabled in 2010, and the current proposal has been a draft since 2016. Without the IRP, there is no framework to procure the generation of new energy.
The FedEx reflected deeply on the by-elections which have taken place since the General Elections, we are deeply concerned with the results, especially where we have lost ground. In this regard, the FedEx has directed that during the two-week Constituency Period, Members of Parliament must intensify their efforts in communities, and Provincial Leaders must continue with their engagements with their structures, as we build towards the 2021 Local Government Elections.
All efforts by all of society, especially men must be made to ensure that women and children are safe in their homes and in public.
The DA earlier this week outlined interventions to deal with the country-wide epidemic of violence against women and children.
The National Assembly Chief Whip, John Steenhuisen, and Leader of the DA Women's Network (DAWN), Dr Nomafrench Mbombo, outlined urgent legislative reforms to curb domestic abuse.
We want to propose replacing the Domestic Violence Act (which will turn twenty years old this year and is due for an overhaul) and the Protection from Harassment Act with a brand-new holistic piece of legislation that is better suited to protect victims of inter-personal and domestic abuse. We have worked to label this epidemic as gender-based abuse, as not all abuse is violent.
We intend to introduce a private member's bill that will strengthen the powers granted to courts and the SAPS to provide essential safeguards and make sure that the rights of the society's most vulnerable are protected. Our private members bill will address legislative gaps and shortfalls; and will have due regard to innovative measures introduced in other countries, where such measures have a proven track record of success and can be adapted for the South African context.
FedEx also spoke about actioning a pledge against male-driven violence, where the DA will mobilise civil society and men in general to commit to the pledge. The pledge broadly calls on men to Change, Stand Up and Speak Out.
The country's frontline law enforcement agency, SAPS, is losing the battle against crime. Of particular concern is the murder rate which is the highest it has been in 10 years, with an average of 57.5 people being murdered a day in South Africa, and a murder rate which has increased by 3.4%.
The police are also losing the battle against gender-based violence, total sexual offences increased by 4.6% with the sub-category of sexual assault increasing by 9.6%.
These crime statistics are an indictment on SAPS and clearly indicates that the police and ANC government are unable to keep our communities safe. These blood-chilling statistics and the victims behind the numbers pour cold water on President Cyril Ramaphosa's promise to halve violent crime in the next 10 years.
FedEx again committed the Western Cape Government to working towards localising SAPS resources so that competent provinces not only have oversight over the SAPS but in fact have control.
The DA stands against xenophobia but we must not allow law enforcement responses to criminality to be labelled as xenophobic; furthermore, if communities have information about crimes taking place, these must be reported to law enforcement authorities. Communities must not take the law into their own hands. The rule of law must stand against lawlessness and criminality, whether it is committed by locals of foreigners.
The rise in xenophobia speaks to a fight for scarce resources. If we cannot build our economy, we will struggle to build a functioning society. Equally, Home Affairs needs to properly deal with immigration, because a breakdown of Home Affairs undermines the rights of foreigners seeking to live in the country legally.
The FedEx discussed the matter of the DA Leader's private home, and the body is satisfied with Mr Maimane's response. There is no sense that any law or regulation has been violated.
We are concerned with the manner in which Rapport reported the matter by publishing a picture of the Leader's home on its front page, last week Sunday. This amounts to a violation of his privacy as well as that of his family.
The DA FedEx congratulated the Ndlovu Youth Choir on their success in reaching the final stage of America's Got Talent. They have brought pride to South Africa and sin Heritage Month have shown the world our rich culture and heritage of music.
FedEx further wished the Springboks and Siya Kolisi well in their Rugby World Cup campaign. May they bring us pride and the Web Ellis Cup.
The state of South Africa requires leadership from all sectors, the country's national leadership can no longer run the country through PR exercises, what is needed is action and leadership.
If we do not collectively save South Africa from collapse, we would've failed those who fought for our democracy and future generations. The status quo cannot remain.
As the DA, we remain committed to building a truly inclusive, prosperous and diverse country, where your race, class, gender or geography do not determine your standing in society and access to opportunities.
The post #DAFedEx: DA is working towards a shared tomorrow appeared first on Democratic Alliance.
Source of original article: Democratic Alliance (content.voteda.org).
The content of this article does not necessarily reflect the views or opinion of Global Diaspora News (www.GlobalDiasporaNews.com).
To submit your press release: (https://www.GlobalDiasporaNews.com/pr).
To advertise on Global Diaspora News: (www.GlobalDiasporaNews.com/ads).
Sign up to Global Diaspora News newsletter (https://www.GlobalDiasporaNews.com/newsletter/) to start receiving updates and opportunities directly in your email inbox for free.